Announcements & News
WELCOME!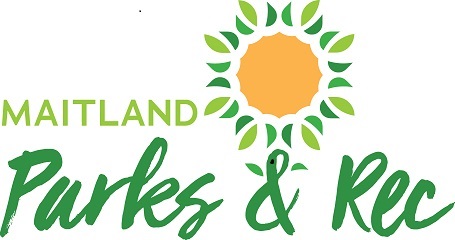 Welcome to the City of Maitland Parks and Recreation Department. Whether it is attending one of our many special events, participating in a recreation program with one of our highly qualified instructors, or renting one of our facilities for your next special occasion, we think you'll love what we have to offer. We invite all people with and without disabilities to enjoy our programs and services. More information about our offerings can be found by clicking on any of the menu topics available above. Feel free to contact us directly if you have additional questions on how we can accommodate you at
407-875-2848
on any day of the week (excluding holidays) between 8am and 10pm.
Due to Covid-19......
The City of Maitland has not yet opened up any of the inside facilities but the playgrounds and basketball courts are back open. The Maitland Community Park is open for exercise, walking your dog and playing tennis. All other parks are open for exercise as well and still remain opened at 8am and close at dusk. The Boat Ramp at Fort Maitland Park is open and to get a day pass ($6) you can go to "facilities" on this site and register for the day. Annual stickers will expire June 30 and the new stickers will be available for purchase at the Maitland Community Park at the end of June. Remember to bring your valid boat registration and driver's license with you to purchase. We hope this will all be over soon and we can get all of our facilities back open. Check back with us to see when we are fully open again. You can call us at 407-875-2848 anytime. Thank you and stay healthy!!!!
Maitland Farmers' Market - Each Sunday from 9am to 2pm at beautiful Lake Lily Park
We have taken enhanced health and safety measures for visitors, vendors and city employees. You must follow all posted instructions while visiting the Maitland Farmers' Market.
An inherent risk of exposure to COVID-19 exists in any public place where people are present. COVID-19 is an extremely contagious disease that can lead to severe illness and death. According to the Centers for Disease Control and Prevention, senior citizens and guests with underlying medical conditions are especially vulnerable. By visiting Maitland's public facilities you voluntarily assume all risks related to exposure to COVID-19.
Visit with vendors selling fresh veggies, popsicles, breads, and many other specialty items at the Maitland Farmers' Market each Sunday. Check out our Facebook Page for the latest information on periodic live music performances and cancellations due to weather or holidays.
Maitland Senior Center - is closed due to the Pandemic.
We hope to get the Senior Center back open soon! The Maitland Senior Center hosts a wide variety of classes and recreation programs that help to keep seniors active and enjoying new experiences. Our staff can also help to provide information about the many service organizations throughout Central Florida and the state that cater specifically to senior needs. Stop by or call us today at 407-539-6251 to find out more information.
PICKLEBALL
Pickleball is offered every Monday and Wednesday from 6:30pm - 8:30pm at Minnehaha Park Tennis Courts. The lines are on the tennis court so you may reserve a court and bring your own equipment to play anytime. The City will set up equipment and offer the free to play activity for the community on Mondays and Wednesdays. All you need to bring at that point is your paddle and balls. You can register for this program on this site under "programs" to receive updates and other info regarding rain outs etc. Come on out and try this new and very popular sport!
Getdown Downtown Block Party - On Hold Due to Covid 19 concerns
The place to be on the first Friday of the month between October and May is on Independence Lane in front of Maitland City Hall for the Getdown Downtown block party. Enjoy live music, vendors, food trucks, and children's activities between 6 and 9pm each first Friday. Admission is free with beer and wine available for purchase. For more information please call 407-539-6268.